Willand is a leader in the snow removal industry
Willand is a leader in the snow removal industry. We offer complete services to corporate offices, industrial properties, schools, healthcare facilities, retail plazas and more. Our focus is not just removing snow, it begins with a proactive plan to provide a safe winter environment.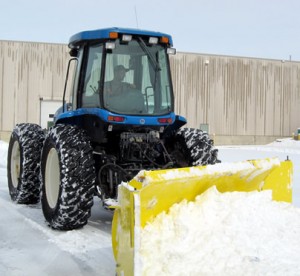 Willand has more than 26 years of strategic planning and snow removal experience. We have the knowledge and resources and a very reliable fleet to handle all your snow removal requirements and needs. Our de-icing products are used in an environmentally accountable manner.
The success of our snow removal department is due in large part to our dedicated and committed staff providing stellar performance, 24/7 throughout the season. We have a team that work together and who are at-the-ready to respond to any weather related calls or emergencies. Our teams continue to strive to meet the needs and exceed the expectations of our clients.
A dependable "24/7" operation with an in-house weather watch system
We take pride in designing colour coded snow maps for each property where the snow needs to be plowed. The map indicates the snow plow direction strategically, the areas it will be piled, side walk cleaning and shoveling, and a detailed outline of the property that gives solid information for all managers and Willand teams about the work to be performed.
Whether it is snow plowing, snow hauling, sidewalk clearing, salting, and other snow removal services, we offer customized packages based on your requirements.
We are committed to your safety and convenience.
Benefits to our Customers:
Over 26 years of dedicated service in the snow removal industry
We do not re-sell to sub-contractors
Exceptional staff that work in a 24/7 operational schedule with supervision
Snow maps that provide direction
Salt Reports on demand to all our clients
On-line and practical training to all our staff
Excellent safety record that keeps the liability insurance rate lower
Insurance coverage to protect our staff
Pre-paid salt to carry adequate inventory in case of salt shortage
A large fleet of equipment to manage any size of snow fall
Member of: