Landscape maintenance is more than cutting grass. At Willand, we offer all of our clients customized and complete services. We listen to your requirements and provide a package that meets your expectations. Facility and property managers can rely on Willand for consistent, quality services while avoiding unexpected but foreseeable expenses. Because we offer complete grounds maintenance we help property managers look good.
We go out of our way to make sure your property is looking its best when it matters most!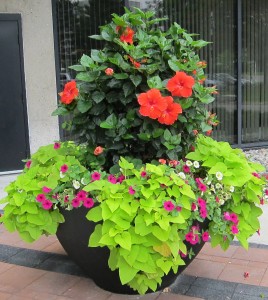 Our uniformed crews are well trained, experienced and updated on our customers' safety and environmental policies. We have built long term relationships with the majority of our customers and that is always our goal. We are successful in building long term relationships with our clients because of our strong communication, keeping to our word, and being flexible to meet our clients requirements.
At Willand, we understand the need to accommodate special circumstances. Our flexibility to adjust our schedule at the request of our clients for additional or specific work to be done or dates to do the work in order to prevent disturbances of meetings, BBQs, etc., is part of our commitment to high customer service. We will go out of our way to make sure your property is looking at it best when it matters most!
Enhancement Services
In addition to standard maintenance, Willand provides a wide range of additional services required to keep your environment looking optimal. Our job is to keep your grounds looking beautiful while dealing with the stresses of our extreme climate and pests such as weeds, insects and rodents. Nature requires a helping hand in order to sustain fruitfulness and quality appearance. These are just some of the many services Willand provides:
Edging and Mulching Beds
Mulching beds helps with weed control and water retention. Mulch is made from different materials and in a variety of colours which really can put emphasis on a property. Edging beds or tree rings can leave a clean cut professional impression. Edging prevents beds from growing in and producing a bold border.
Top Dress and Over seed
Topdressing improves the soil quality of a lawn and adds nutrients. Over seeding will thicken a lawn with new growth. Both are commonly done together. We have experienced produce positive results repairing winter damage with this technique and a custom blend of grass seed.
Aerating and De-thatching
Aerating is done to improve drainage to a lawns, infiltration of water and nutrients, reduce turf compaction, and encourage deeper root systems which allows for a lawn to be more drought resistant. De-thatching removes a buildup of dead grass, leafs, moss and other organic matter known as thatch. Thatch can suffocate the growth of new and health lawn, and prevent grass seed from contacting the soil. Removing thatch will thicken lawn and make it less susceptible to diseases.
Fertilizing
Lawn fertilizing is important in providing grass the nutrients it needs to grow thick, dark green and able to push out weeds rather than being overtaken. Other forms of fertilizing that Willand provides include tree fertilizing known as deep root feeding, shrub fertilizing and flower or annual fertilizing.
Organic Weed Control
Lawns overtaken by weeds have become very common in recent years as a result of government imposed pesticide bans. Willand uses an iron based organic pesticide called Fiesta in an effort to keep lawns weed free. Our maintenance crews also can pull weeds manually. Back spraying with Horticultural vinegar is done to keep weeds from growing in walkways, patios, loading docks, curb lines, beach pebble and beds. Our maintenance crews also pull out weeds from between shrubs and flowers or trim out where it is safe to do so without damaging plants or projecting debris.
Pest Control
Insects and rodents have become more and more problematic. Tree spraying is done to kill spruce bud worm, aphids and many other damaging insects on various species of trees.
Rodent control is done by strategically setting traps and poison. Willand can also install protective barriers on trees and shrubs to protect their bark.
Grubs and Chinch Bug eating away at a lawn is controlled with the use of organic nematodes while our maintenance crews are equipped with organic ant killer for applying on hills that pop up in lawn and garden areas.
Watering
In addition to our complete irrigation systems, Willand has a water truck that is kept busy through the summer months ensuring landscape work completed through the year does not dry out and die. We warranty our work so watering new landscapes through the summer months is normally included in our services.